November 14, 2023
Topics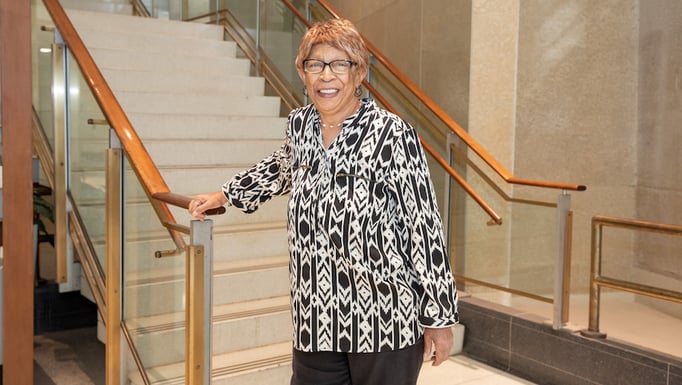 Stella Seay, 77, is now smoke-free after participating in the Courage to Quit program at UChicago Medicine.
Like so many other smokers, Stella Seay had her first cigarette as a high schooler. The South Side Chicago native, now 77, became a regular smoker for many years to come.
"I was really hooked on the nicotine," she said. "I didn't even enjoy smoking — I just did it."
At one point, she was smoking up to two packs a day. They became a compulsory pairing with coffee and food. When someone else lit a cigarette around her, she would light one, too.
After being referred to UChicago Medicine several years ago for treatment of her diabetes, Seay got news from another physician that there was something else wrong: lung cancer.
Cigarettes, which have about 70 different cancer-causing substances called carcinogens, almost immediately cause damage to the cells that line the lungs. While a person's lungs may repair some of these tissues, the damage can be much more serious over time. And even a couple of cigarettes can cause damage.
"My doctor said, 'I hope when I see you again you won't be smoking cigarettes.' I knew I had to give up on them," said Seay.
One of Seay's doctors referred her to UChicago Medicine's Courage to Quit® smoking cessation program. The program is led by smoking cessation expert Andrea King, PhD, of UChicago's Department of Psychiatry & Behavioral Neuroscience, in partnership with the Respiratory Health Association (RHA).
Through the program, group counseling meetings are held several days a week. Many patients join for free through Medicaid or Medicare, and insurance coverage can be evaluated for all other patients. While meetings used to be held in person on the hospital's Hyde Park campus, the COVID-19 pandemic caused the groups to shift to a virtual format, held over Zoom. For patients who may not own a device with access to Zoom, there are a couple of loaner tablets available for them to use so they can still join group calls.
Smokers are encouraged to come whenever they can and are given access to no-cost, evidence-based medications that can help them quit and can be mailed directly to their homes. Seay has used nicotine lozenges, which are one option among others like patches and gum.
According to King, Seay has also helped encourage others in her groups to stop smoking.
"Stella is warm and engaging, and she's very honest," said King. "I find this very helpful not only in her own work quitting smoking but also in helping other people really relate to her."
King said Seay's story is a very relatable one. For many people, quitting smoking isn't easy to do cold turkey. Seay had to wean herself off cigarettes slowly and this led to her stopping smoking completely in fall 2023. She had a slip-up on her birthday this year in June, but she's managed to steer clear of smoking since then.
"I don't crave the cigarettes like I used to, but I had a weak moment," she said. "I haven't bought any, and now I associate myself with people who don't smoke around me."
King said Seay is a great example of perseverance.
"A lot of people can internalize and feel bad about themselves when they can't flip a switch and quit smoking immediately," said King. "We say in the program that every goal you achieve is a victory. Reduction is part of the journey."
Along with evidence-based therapy and education, the group offers participants a chance to share their stories and encourage one another. Seay said she's enjoyed the social aspect and connections she's made with the others in the program.
"For anybody that's really trying to quit, I would recommend this program," Seay said. "Sometimes you need that extra push."
She is now in remission from her lung cancer and hasn't smoked since June, but she has stayed in the program to reinforce her smoke-free lifestyle and help others who are trying to quit.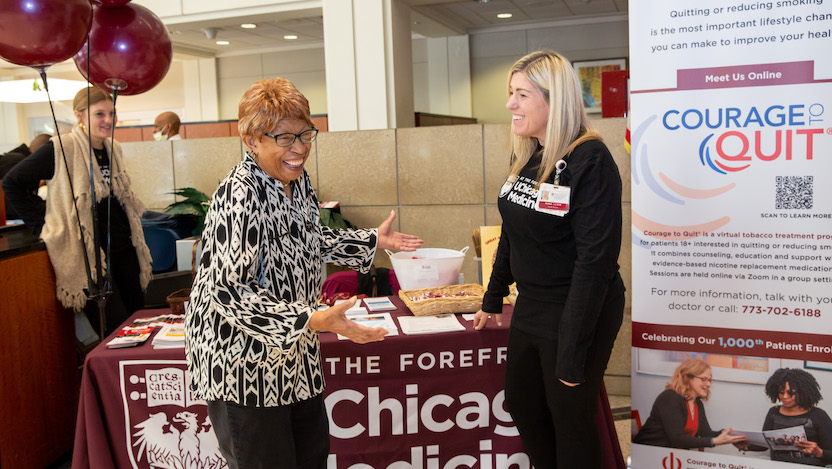 Stella Seay speaks with LCSW Anne Roupas.
The Courage to Quit® program, which began in 2016, will serve its 1,000th patient this fall.
Before the program's inception, King said many patients were getting basic smoking cessation advice from physicians, nurses and other care team members, but they needed much more tailored support.
"We don't make anyone quit smoking," said King. "We use evidence-based treatments and customize the program for people's specific needs and unique journeys."
UChicago Medicine offers additional smoking cessation tools, including another program specifically for cancer patients, led by King, called No Smoker Left Behind. Patients can also get phone support from the Illinois Tobacco Quitline and daily support text messages from the National Cancer Institute's SmokeFreeTXT.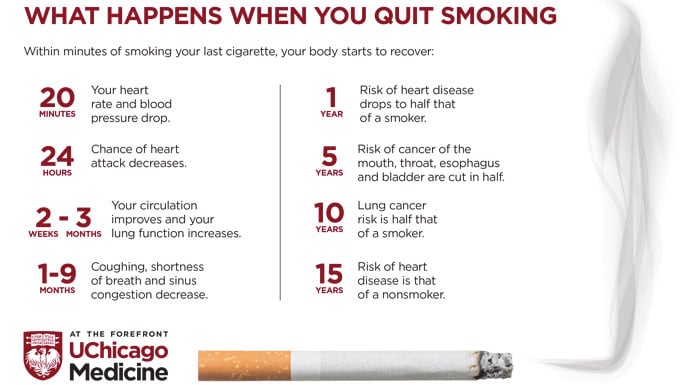 Download a PDF of this graphic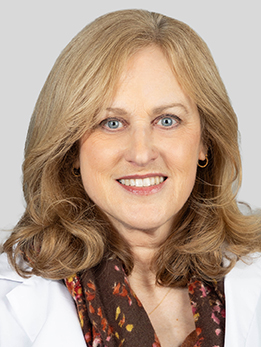 Andrea King, PhD
Andrea King, PhD, is a psychiatrist who focuses on tobacco and alcohol addiction, assessment and treatment of substance use disorders, and cancer prevention and control. 
Smoking Cessation Program
Everyone's journey to quit smoking is different, but you don't have to do it alone. Courage to Quit® (CTQ), a group-based approach to smoking cessation, helps patients like you overcome tobacco addiction and quit smoking for good.