The University of Chicago Medicine
Department of Psychiatry & Behavioral Neuroscience
Clinical Psychology Training Program
October 30, 2018
Dear applicants:
Congratulations on being at this point in your graduate training! Thank you for your interest in the Clinical Psychology Postdoctoral Fellowship Program at the University of Chicago Medicine. We are pleased to provide you with our updated 2019-2020 information. We are listed in the Universal Psychology Postdoctoral Directory (https://www.appic.org/Postdocs/Universal-Psychology-Postdoctoral-Directory-UPPD) and will abide by APPIC guidelines for the 2019-2020 training year.
Our clinical psychology fellowships are a component of the larger Clinical Psychology Training Program based in the Adult and Child Sections of the Department of Psychiatry and Behavioral Neuroscience at the University of Chicago. Our training program includes psychology externships in many different areas, an APA accredited clinical psychology doctoral internship, and most recently, postdoctoral fellowships in psychology. Thus, clinical psychology has been an important component of departmental training for many years, and is integrated within the interdisciplinary educational mission of the Department and the larger Medical Center. Our fellowships are designed to train health service psychologists for entry level practice in academic settings in the specialized areas of clinical health psychology and pediatric psychology. The hallmarks of our program include evidence-based approaches to assessment, consultation, and intervention and the integration of science and practice. While our programs do include some specific requirements, we attempt to meet our fellows' specific training goals in order to best prepare for an academic clinical career. Ample supervision is available with opportunities to attend didactics with other trainees. We believe that we offer a challenging and supportive setting for obtaining fellowship training in Clinical Psychology.
For the 2019-2020 training year, we will offer two postdoctoral fellowships in clinical psychology, with one position each. Please review the specific description, requirements and follow the application instructions for each fellowship. Application materials for the Adult Clinical Health Psychology fellowship should be sent to Dr. Shona Vas (svas@yoda.bsd.uchicago.edu) and application materials for the Pediatric Psychology fellowship should be sent to Dr. Tina Drossos (tdrossos@yoda.bsd.uchicago.edu). Our annual stipend is consistent with NIH salary guidelines for postdoctoral training and is offered as part of a comprehensive package of benefits.
Our application deadline is Tuesday, January 1, 2019 (11:59 CST). You will be contacted by email if you are selected for an interview. Interviews will occur between mid-January and mid-February, 2019.
Before deciding to apply to our program, please review our materials very carefully. You might also find it useful to review our internship brochure to learn more about our department, our training philosophy, our faculty, and available didactics. We want you to fully appreciate the structure of our clinical psychology training program and what we have to offer. We hope that you will apply to our fellowship because you believe it is a "great fit" with your long-term career goals. We will provide you with appropriate supervision, mentorship, and support for your professional development as a health service psychologist who is able to integrate science and practice in an academic environment.
We wish you luck as complete your degree! We look forward to reviewing your application and possibly meeting you in person. Feel free to contact us by email if you have further questions.
Sincerely,
Shona Vas
Shona N. Vas, Ph.D.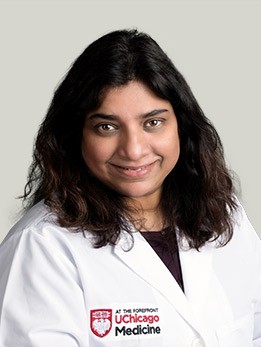 Director, Clinical Psychology Training
Director, Cognitive-Behavior Therapy Program
Associate Professor, Psychiatry & Behavioral Neuroscience
Contact Information: svas@yoda.bsd.uchicago.edu