The University of Chicago Medicine
Department of Psychiatry & Behavioral Neuroscience
Clinical Psychology Training Program
November 15, 2020
Dear applicants:
Congratulations on being at this point in your graduate training! Thank you for your interest in the Clinical Psychology Postdoctoral Fellowship Program at the University of Chicago Medicine. We are pleased to provide you with our updated 2021-22 information. We are listed in the Universal Psychology Postdoctoral Directory (https://www.appic.org/Postdocs/Universal-Psychology-Postdoctoral-Directory-UPPD) and will abide by APPIC guidelines for the 2021-2022 training year unless otherwise indicated. Materials should be submitted through APPA CAS.
Our clinical psychology fellowships are a component of the larger Clinical Psychology Training Program based in the Adult and Child Sections of the Department of Psychiatry and Behavioral Neuroscience at the University of Chicago. Our training program includes psychology externships in many different areas, an APA-accredited clinical psychology doctoral internship, and most recently, postdoctoral fellowships in psychology. Thus, clinical psychology has been an important component of departmental training for many years and is integrated within the interdisciplinary educational mission of the Department and the larger Medical Center. Our fellowships are designed to train health service psychologists for entry-level practice in academic settings in the specialized areas of clinical health psychology, pediatric psychology, pediatric neuropsychology, and trauma. The hallmarks of our program include evidence-based approaches to assessment, consultation, and intervention, and the integration of science and practice. While our programs do include some specific requirements, we attempt to meet our fellows' specific training goals in order to best prepare for an academic clinical career. Ample supervision is available with opportunities to attend didactics with other trainees. We believe that we offer a challenging and supportive setting for obtaining fellowship training in Clinical Psychology.
For the 2021-2022 training year, we will offer four postdoctoral fellowships in clinical psychology. Our Adult Clinical Health Psychology track will have one position and applications should be addressed to Dr. Shona Vas. Our Pediatric Psychology fellowship track will have one position and applications should be addressed to Dr. Tina Drossos. Our Trauma Fellowship will have two positions and applications should be addressed to Drs. Brad Stolbach and Sonya Dinizulu. Our Pediatric Neuropsychology fellowship will have one position and applications should be addressed to Dr. Scott Hunter (please read instructions for this fellowship carefully as applications are due on 12/18/20 and will not be submitted through the APPA CAS portal). Our annual stipend is consistent with NIH salary guidelines for postdoctoral training and is offered as part of a comprehensive package of benefits.
Our application deadline is Friday, January 1, 2021 (11:59 EST) for our Adult, Pediatric, and Trauma fellowships. You will be contacted by email if you are selected for a virtual interview. Interviews will occur on Thursdays, January 21st, and 28th, 2021. Applications for positions open after 2/22/21 will be reviewed on a rolling basis until filled. Please be particularly attentive to the details of our Pediatric Neuropsychology Fellowship as the recruitment practices and timelines are different than our other fellowships.
Before deciding to apply to our program, please review our materials very carefully. You might also find it useful to review our internship brochure to learn more about our department, our training philosophy, our faculty, and available didactics, although fellows' clinical experiences are different than those of interns, and internship rotations are not available to fellows unless specified. We want you to fully appreciate the structure of our clinical psychology training program and what we have to offer. We hope that you will apply to our fellowship because you believe it is a "great fit" with your long-term career goals. We will provide you with appropriate supervision, mentorship, and support for your professional development as a health service psychologist who is able to integrate science and practice in an academic environment.
At this point in time, any description of our program would be incomplete without alluding to the COVID-19 pandemic. In response to the level of risk posed by this disease and with the safety of our trainees, staff, faculty, and patients as our paramount concern, we transitioned to providing services virtually with most employees working from home. Our inpatient and neuropsychology programs are most impacted by this transition are prioritized for on-site care. We currently provide inpatient care, consultation services, and neuropsychological assessment using hybrid models as much as possible with appropriate safety protocols for when face-to-face contact is necessary. We expect that these practices will depend on extant infection rates, safety protocols, and all relevant state, national, and institutional regulations and procedures. Outpatient services for psychiatric care and psychotherapy, in particular, are being conducted remotely via video and phone. We recognize that virtual services for children and families are less than optimal and will therefore prioritize these populations as we return to "normal." We conduct didactics and some supervision virtually in order to support our trainees' safety. We have highlighted the importance of flexibility and creativity as we adapted to the challenges of COVID-19. Although we have no current requirements to be on-site unless necessary for clinical obligations, we are mindful of some of the losses associated with remote work such as inter-professional collaboration, socialization among trainees and with our faculty, development of a support system for our trainees, and a general sense of community. To this end, we hope to return to a position where we can all be on site for at least one day a week. Our training program, department, division, and institution follow infection control procedures and national and state regulations as informed by science and safety. We are committed to maintaining the integrity of our training program and the acquisition of profession-wide competencies while balancing the safety of our trainees, faculty, and patients. We also acknowledge the uncertain and evolving nature of the pandemic and that additional adaptations to preserve the integrity of our program and the safety of our trainees and faculty may need to be made in 2021-22.  
We wish you luck as you complete your degree! We look forward to reviewing your application and possibly meeting you in person. Feel free to contact us by email if you have further questions.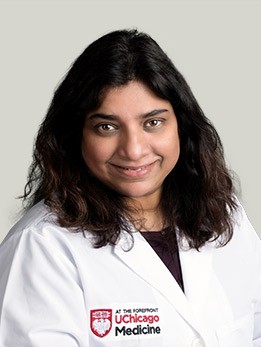 Director, Clinical Psychology Training
Director, Cognitive-Behavior Therapy Program
Associate Professor, Psychiatry & Behavioral Neuroscience
Contact Information: svas@bsd.uchicago.edu